Some of the attendees at the No2NP conference and campaign launch 
We must apologise for the belatedness of this update, but we do have several compelling excuses!
We have been fielding a record number of enquiries from home educating parents and those considering the option due entirely to anxieties about GIRFEC, Named Persons and the legalised data theft incorporated in the Children & Young People (Scotland) Act which was recently rushed through the Scottish Parliament before MSPS had the chance (or wit) to wake up to its implications. Despite not coming into force  until 2016 (and not at all if the upcoming judicial review succeeds) GIRFEC appears to have already unleashed an army of home ed hating zealots from schools, councils, the NHS, the police and third sector, whose mission seems to be to undermine parents and distress children who choose to decline optional 'services' such as nursery places, schools and health visitors.
In addition to our usual constituency of families interested in home education, there has also been growing interest in GIRFEC and allied data protection breaches from the general public, causing our enquiries service to become overwhelmed. The penny seems to have finally dropped that this ill-conceived piece of legislation will affect everyone (although we are fairly sure that the weans of  celebrities, royals, aristocrats, MSPs and important people will be exempted, as was the case with the doomed ContactPoint in England, since the data can never be held securely). Whether it's one central database or a bunch of separate databases, it makes no odds when everyone is sharing sensitive personal data willy nilly. Thanks to one head teacher's cavalier attitude to confidentiality, we are aware of at least one child whose medical condition became the subject of playground tittle tattle, and data theft by on-duty police officers continues to plague Police Scotland, so it can safely be surmised that a significant proportion of Named Persons will also indulge in illegal nosy parkering activity.
Furthermore, we have seen a worrying increase in reports of bullying, intimidation and malicious referrals to social work and children's reporters by incompetent, untrained and unprofessional Named Persons who disagree with parents about a child's best interests, who are ignorant of the law (especially when it comes to parental choices such as home education), who lack the ability to see beyond their given SHANARRI tick boxes and who demonstrate alarming levels of personal prejudice.  Aileen 'Also' Campbell was obviously talking total tosh when she delivered her repetitive 'benevolent Named Person' platitudes, but we already knew that.
There has meanwhile been a corresponding increase in media enquiries as mainstream journalists finally catch up with, and believe, the dangerous data stealing, surveillance and control agenda we have been flagging up for years. Along with the usual tabloid suspects, who were quickest off the mark, the Scotsman and Press & Journal have both come out strongly against the legislation, having recognised it for what it is: a Trojan Horse designed to disguise its sinister intent in faux child protection clothing and fool parents and professionals alike in order to avoid close scrutiny until it had been forced through the Parliament .
Aside from all of the above, we were also directly involved in the launch of the No2NP campaign and conference in Edinburgh on 9th June, which attracted such a large audience of parents, academics and other professionals that some attendees had to sit on the floor. With the exception of Liz Smith MSP, politicians were noticeable only by their absence and, as one participant pointed out, can expect to pay a heavy price for their 'failure to engage' with parental concerns come election time. The event, which drew well respected speakers from a range of disciplines, was filmed and will shortly be available on the No2NP website.
We have also had a series of meetings with interested parties who are keen to be involved in directly opposing the offensive anti-family provisions within the legislation. It has been extremely encouraging that some highly regarded experts in law, social work, health and education have put their weight behind the No2NP campaign and associated resistance.
Meanwhile we are continuing to support the judicial review which has been lodged by the Christian Institute with backing from a diversity of organisations and individuals. Schoolhouse is preparing a dossier of dodgy practice, highlighting human rights and data protection breaches, which we will offer as evidence of the ongoing harassment of families by GIRFEC box tickers, which has undoubtedly worsened as Named Persons proceed to overstep professional boundaries without lawful authority.
We have also been keeping tabs on the latest court judgements relevant to Article 8 and data protection breaches. Google has recently come a cropper as the 'right to be forgotten' was upheld by the ECJ, with far reaching implications for state sponsored databasers across the EU. Most recently, in the Supreme Court, JUDGMENT R (on the application of T and another) (Respondents) v Secretary of State for the Home Department and another (Appellants) (pdf) has provided further fuel to the anti-GIRFEC fire. We quote:
The exercise of power by public officials, as it affects members of the public, must be governed by clear and publicly accessible rules of law. The public must not be vulnerable to interference by public officials acting on any personal whim, caprice, malice, predilection or purpose other than that for which the power was conferred

….in order for the interference to be "in accordance with the law", there must be safeguards which have the effect of enabling the proportionality of the interference to be adequately examined.

The European court has said repeatedly that, although the purpose of article 8 is essentially to protect the individual against arbitrary interference by public authorities, it does not merely compel the state to abstain from such interference: in addition to this primarily negative undertaking, there may be positive obligations inherent in an effective respect for private life.
All in all, a fairly heavy workload for a small charity which does not receive (and would decline) any funding from government or other sources whose rhetoric includes promoting or improving 'wellbeing'. As Stuart Waiton was at pains to point out in a recent BBC interview on the subject of the so-called Enabling State, the powers that be will only 'enable' and 'empower' individuals if they are working towards state approved outcomes; otherwise they will experience the state as disabling. For more on outcome-based education (like the CfE) and outcome-based everything else (whose main objective is universal data collection by fair means or, more usually, foul in order to ensure compliance with collectivist state goals ), Charlotte Iserbyt, former Senior Policy Advisor in the U.S. Office of Educational Research and Improvement (OERI) in the first  Reagan administration, tells it like it is. Follow that link and you will see that GIRFEC is not new, is not Scottish and is not about protecting children.
Returning to topic, we would encourage everyone to sign up to the No2NP campaign, 'like' No2NP on Facebook and follow the campaign on Twitter. Full details are on the campaign website, where you will also find a plethora of stories from parents and professionals and regular updates. A series of GIRFEC dedicated threads on the Scottish Home Education Forum also keeps track of developments on a daily basis.
The following selection of media articles should be of interest to all those concerned about blind faith in GIRFEC and the cult of SHANARRI with its raft of risk indicators. Often the comments are as interesting as the article copy.
Wider implications of named person law
'Nanny state gone mad': Paper slams named person plans
How 'snitching' could erode teacher trust
Scotland's Named Person law: A boost for children's wellbeing or a threat to religious liberty?
Tymes Trust announce they support court action against 'Named Person' scheme for Scotland
A YOUNG man's life was almost ruined by school and council snooping as a result of living in the pilot area for the SNP's state guardian scheme.
Highland Council accused of "Big Brother" tactics
P&J editorial on state guardians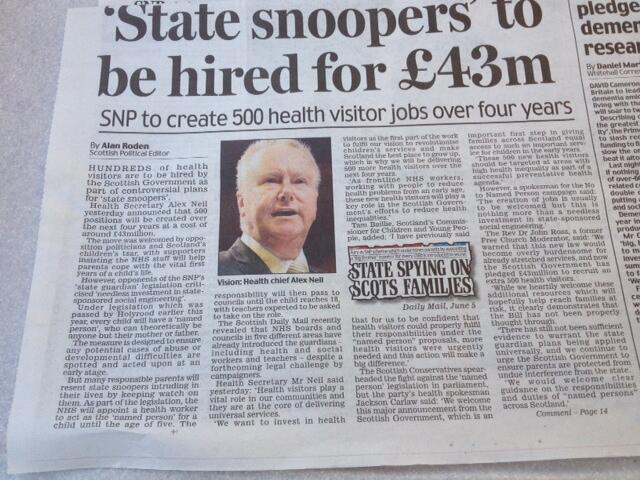 Bloggers have also helped spread the word with insightful analysis and incisive comment. We can highly recommend the following:
Alice through the Looking Glass (State Control of Children)
Meanwhile, as government spokespuppets continue to parrot the same old lines about 'voluntary engagement', a veritable army of self styled 'enforcers' (or 'remediators', as Iserbyt would call them), who all appear to be strangers to the real meaning of children's rights, have been meeting in plush surroundings at a Capita conference in Edinburgh (at our expense in more ways than one, see comment thread here). They have been talking tactics on how to get away Scot free with blatant blanket data theft using a network of state informants and how to undermine families by creating a nation of 'at risk' children, all of whom will be fair game for interference by strangers. Jimmy Savile and Cyril Smith would have approved, as would the architects of ContactPoint (spawned by GIRFEC's evil twin ECM) which quickly became known as 'the paedophiles' address book' before it was finally scrapped.
In case anyone is still harbouring any doubts about the war that is being waged on families' privacy and autonomy, we would remind readers of this nugget of sheer nonsense from a Perth & Kinross Council staff 'guidance' document.
'In such cases where information will be shared, consent should not be sought, as to do so would give the subject (child or young person and/or their parents/carers) a false belief that they can control the decision, which they cannot.'
We make no apologies for singling out Perth & Kinross Council as it has lots of 'previous' in overstepping boundaries, although it is of course not alone in behaving badly towards the members of the public it is supposed to serve.
As the legal challenge proceeds, we have found the 'subject access request' to be a particularly useful weapon in the anti-GIRFEC armoury, since data subjects are legally entitled to copies of their records in order to find out what has been said, written and shared about them and their children, often  without consent (or even knowledge). Data controllers are legally obliged to respond to data subjects within 40 days and, multiplied by several hundred requests a week, the extra work will keep them too busy for busybodying elswhere.
Many parents have already indicated that they will be employing a Just Say No approach to data stealing and interference by an imposed state invader. As Alan Sugar might say: "Named Person, you're fired!" And as Thomas Jefferson advocated: "If a law is unjust, a man is not only right to disobey it, he is obligated to do so." Without consent, the scheme will inevitably fail.
One way or another, we predict a very rough ride for Named Persons and a fairly dramatic meltdown in social work services, as occurred in the Isle of Man. While Aileen's Army of state snoopers from education, health and other 'services' busy themselves with tick boxes to record pet guinea pig deaths and make malicious referrals where parents don't 'engage' or comply with the state approved parenting template, the results could well be fatal for the most vulnerable children who are truly 'at risk of significant harm' but whose needs are overlooked in an ocean of GIRFEC trivia and SHANARRI false alarms.
It's not hard to foresee who will be in the firing line, literally, when Getting It Right Goes Horrendously Wrong. Step forward, Named Person, and explain to an outraged public baying for blood why that deceased pet parrot should have ticked the same number of risk boxes as visible bruises, black eyes and obvious signs of child neglect which constitute 'significant harm' as opposed to fluffy 'wellbeing' concerns.
When the chips are down, heads belonging to head teachers will be the first to roll.